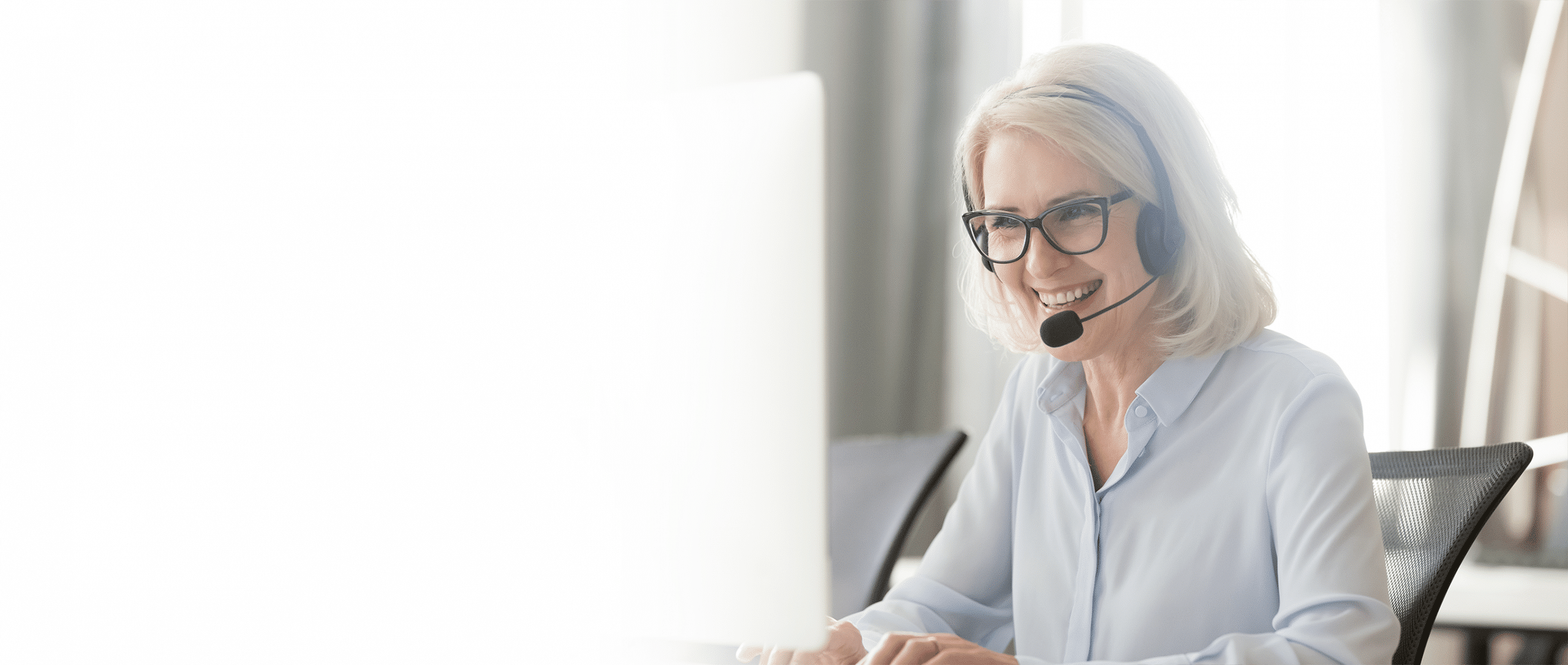 Personal support from dieticians
Without medication/medical intervention
More than 20 years of research and experience
What makes our programme different?
The Prodimed Programme is not the umpteenth slimming method promising superfast weight loss. Our approach is completely different and unique. Developed in collaboration with health professionals and food professionals, recommended by doctors, supported by independent dieticians.
More than 200 health problems can be directly or indirectly attributed to excess weight. Prodimed tackles the problem at its core, allows your body to recover, and brings you to a healthy weight – permanently. With plenty of tasty and varied meals, so that you never feel hungry. And with the ever-present support and encouragement from a personal dietician.
You book your first phone consultation online.
The dietitian who will be your personal counsellor will call you for an initial meeting and explain the programme. Together, you will create a personalised plan. All done online.
Start Prodimed Programme
Together with your dietitian, you decide when to start. The Prodimed Starter Kit contains all the nutrition and supplements for a healthy start.
With the right food and supplements, we relax your body and start burning fat.
The body's natural recovery process is initiated. Prodimed meals are gradually replaced by your own meals.
Personal guidance and nutritional supplements help you maintain healthy eating habits and lifestyle.
A healthy weight in three phases
Reset
A body that is overweight has a disturbed micro-biotic balance and inflammation in the intestinal wall and liver. This has to heal and settle first. The reset phase restores balance, reduces the level of inflammation and starts up the fat metabolism.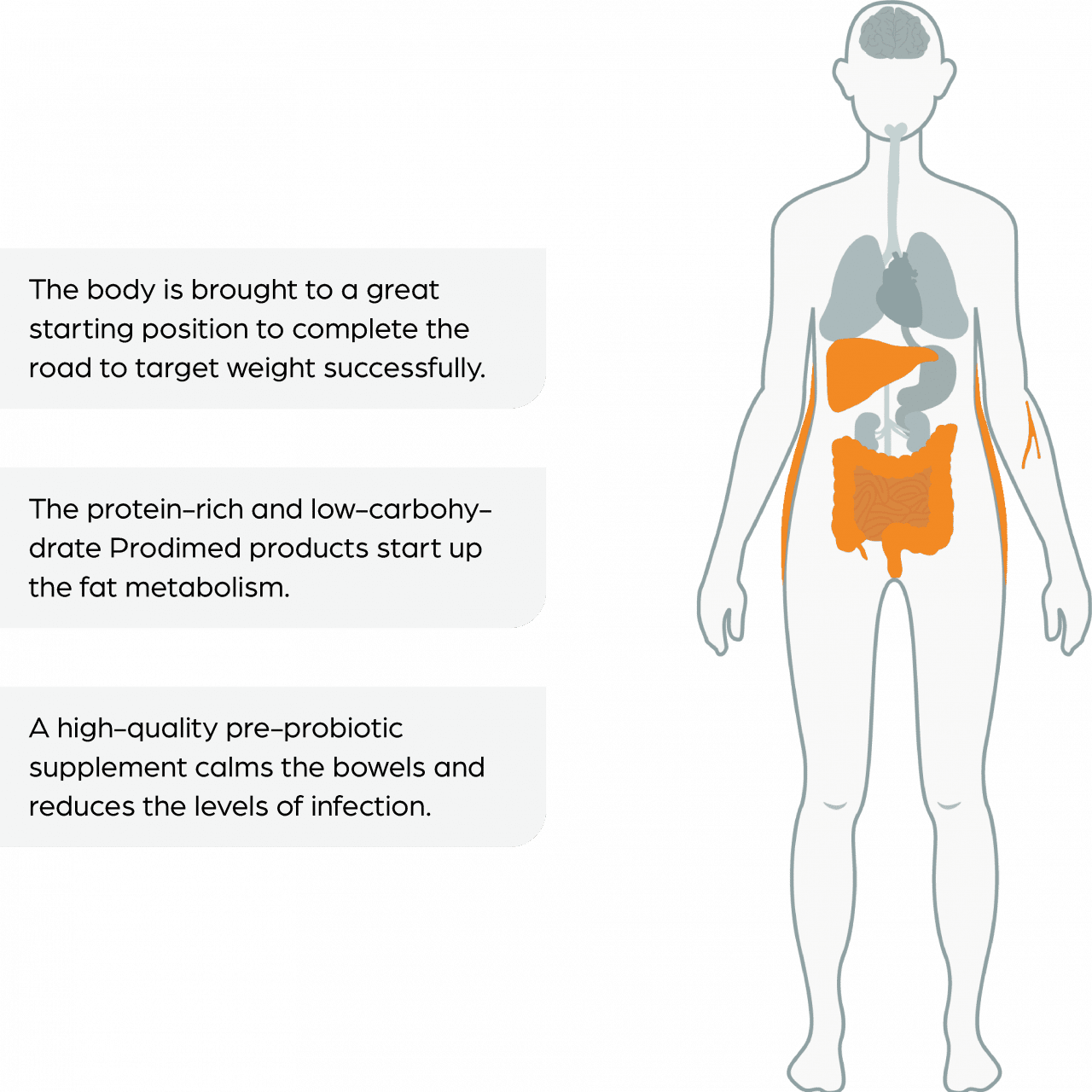 Recover
After the body is settled, the recover phase starts. Bioactive substances reduce inflammation to healthy levels and help the body cleanse itself. You will feel noticeably better quickly; physically as well as mentally. You reach your target weight by keeping the fat metabolism going.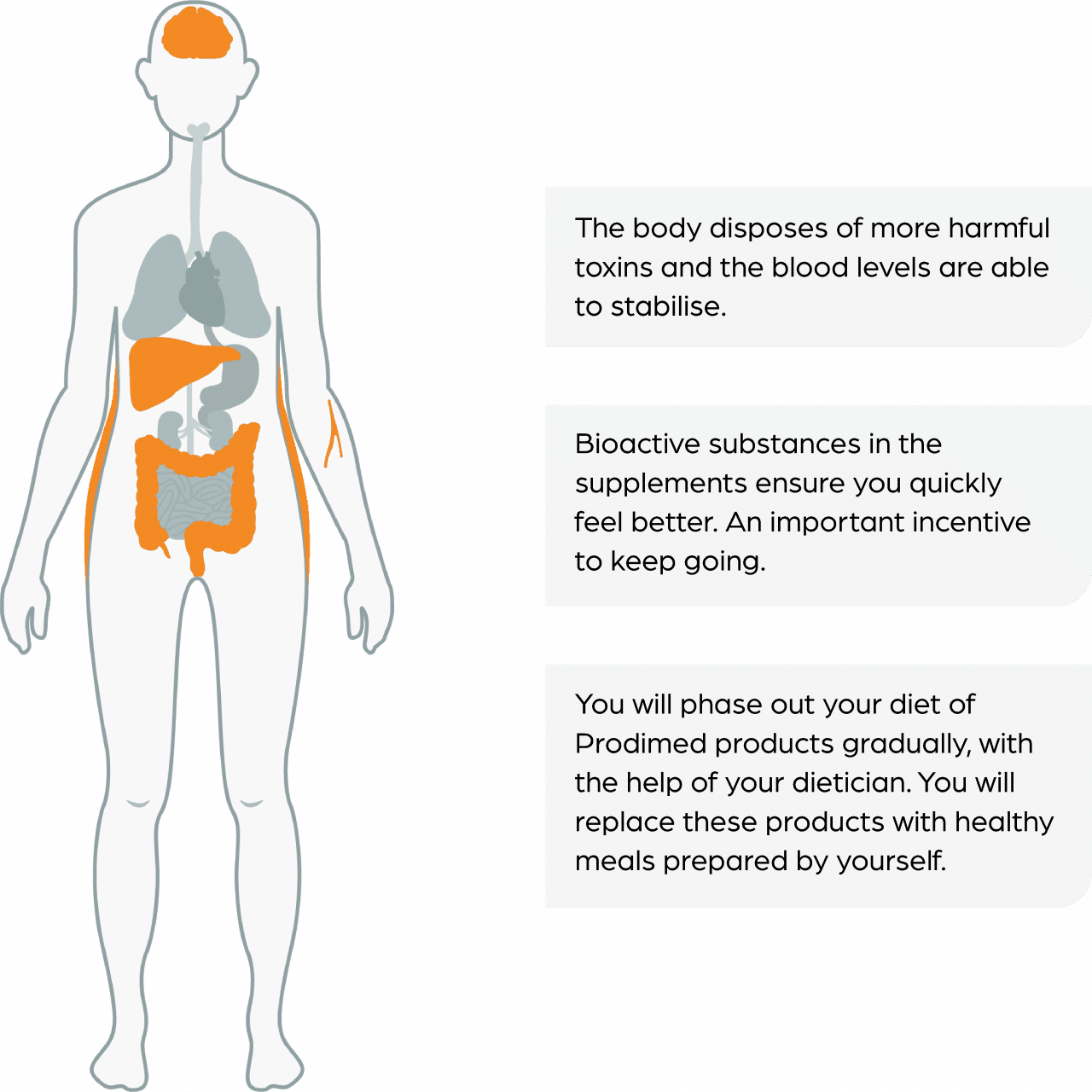 Control
As soon as you reach your target weight, it is important you maintain it. Bioactive substances can help you do this. They relieve any withdrawal symptoms that come with a reduced intake of carbohydrates and sugars, and they make you feel calm and tranquil. This, in combination with the personal coaching from your dietician, will make it much easier to stick to a healthy diet and lifestyle.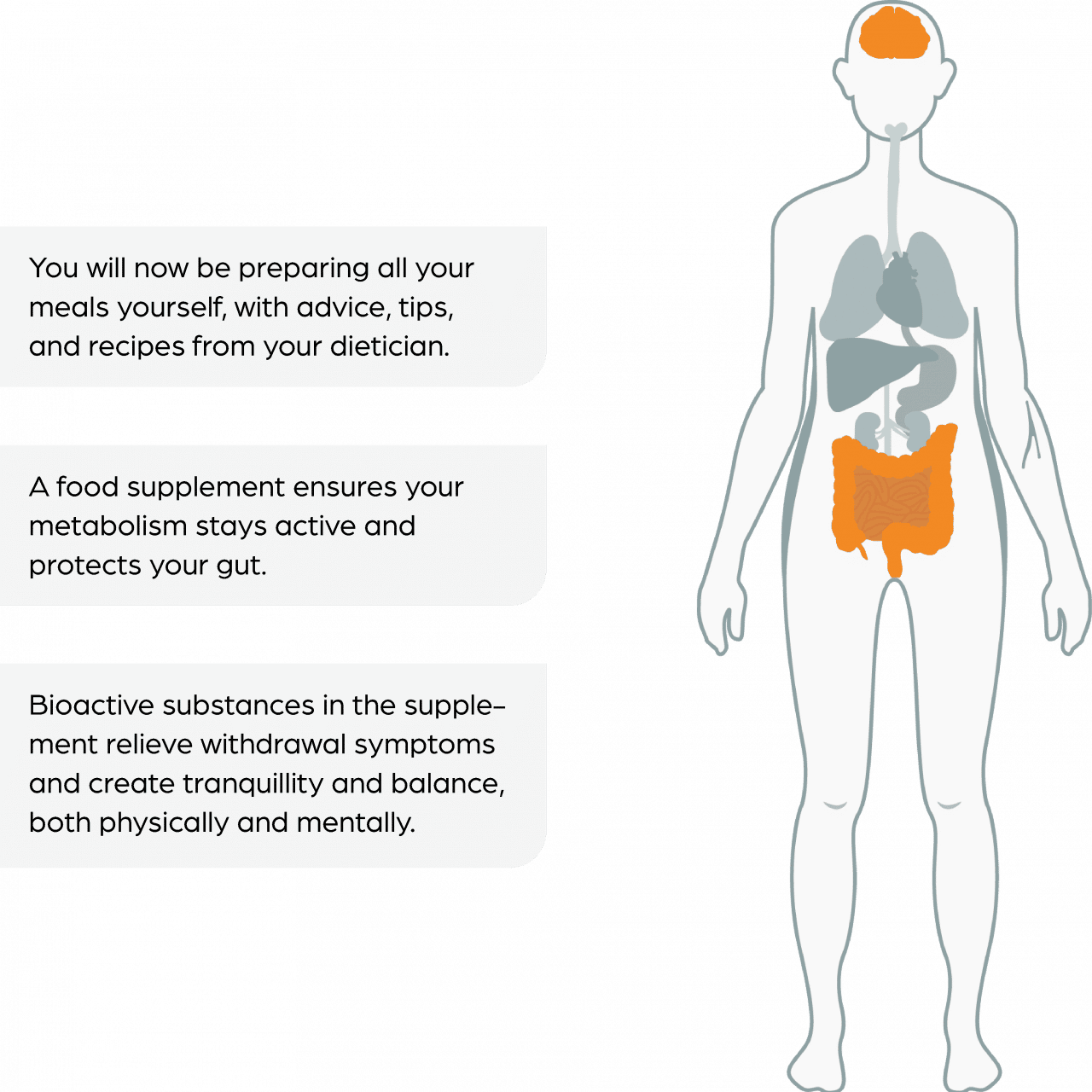 Three pillars to support your success
One-to-one coaching from your dietician
From the very first moment, you will receive one-to-one support from an independent dietician. It is this personal support that makes our programme different and successful. Coaching from a professional who informs, advises, and – most of all – encourages you! Everything online; so easy and convenient. They will help you in a variety of ways to make sure you reach and maintain your target weight. With a personalised step-by-step plan, free consultations, tips, advice, and tasty recipes. And above all: support and encouraging feedback along the way towards your healthy weight.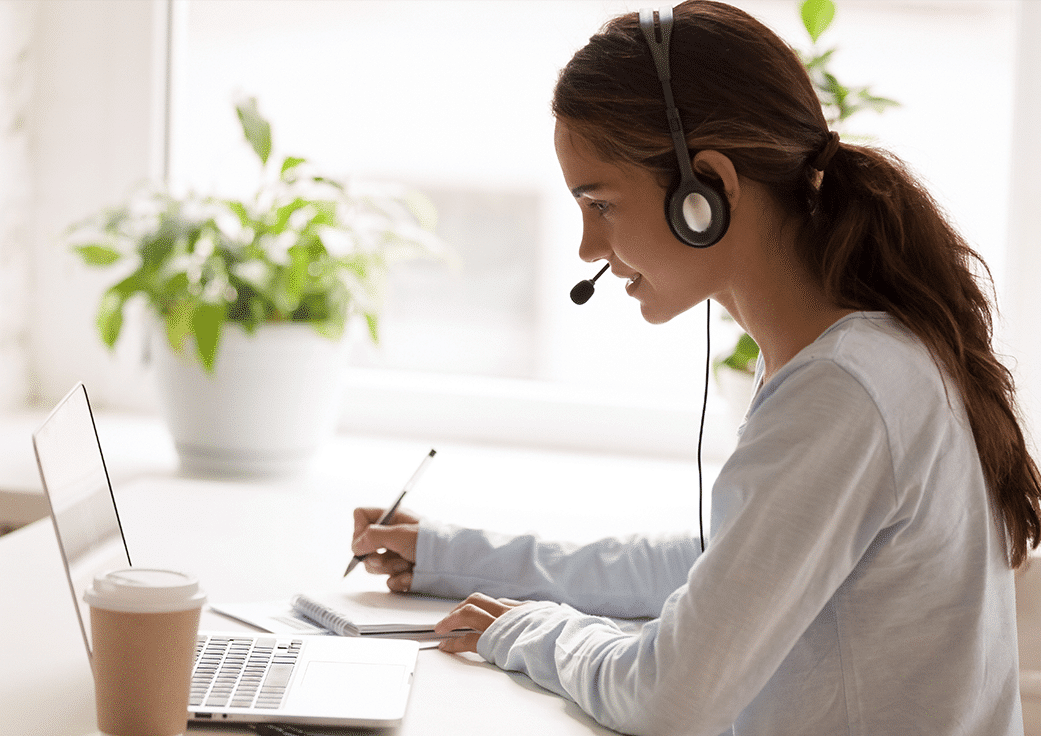 The right nutrients at the right time
Prodimed offers a wide range of meals and snacks. High-quality products, rich in protein, and as low in carbohydrates as possible. With lots of variety and flavour, because the more delicious your food and the more you enjoy it, the easier you will achieve your goals. These products and food supplements have been developed and formulated by us and are specifically adapted to your body's needs. They ensure that your body can heal during the reset and recover phases, and they stimulate fat metabolism. After this, you will start to prepare your own meals as soon as possible again (with tips and tasty recipes from your dietician!).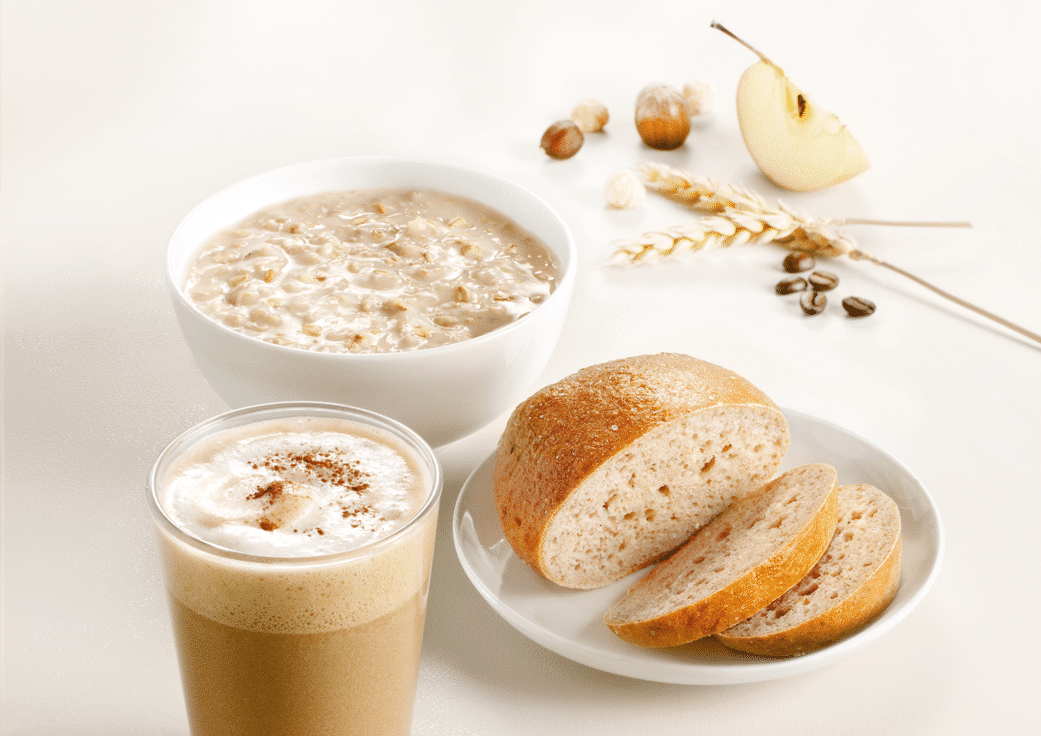 MyProdimed. You can see it works!
View your personal plan and goals anywhere and anytime on MyProdimed (on the website or in the app on your smartphone). What's more, you can view your progress, which is very encouraging to make sure you keep going. This is also where you'll find personal advice from your dietician, recipes and cooking tips, and you can chat together. Ordering new products is also quick and easy in MyProdimed.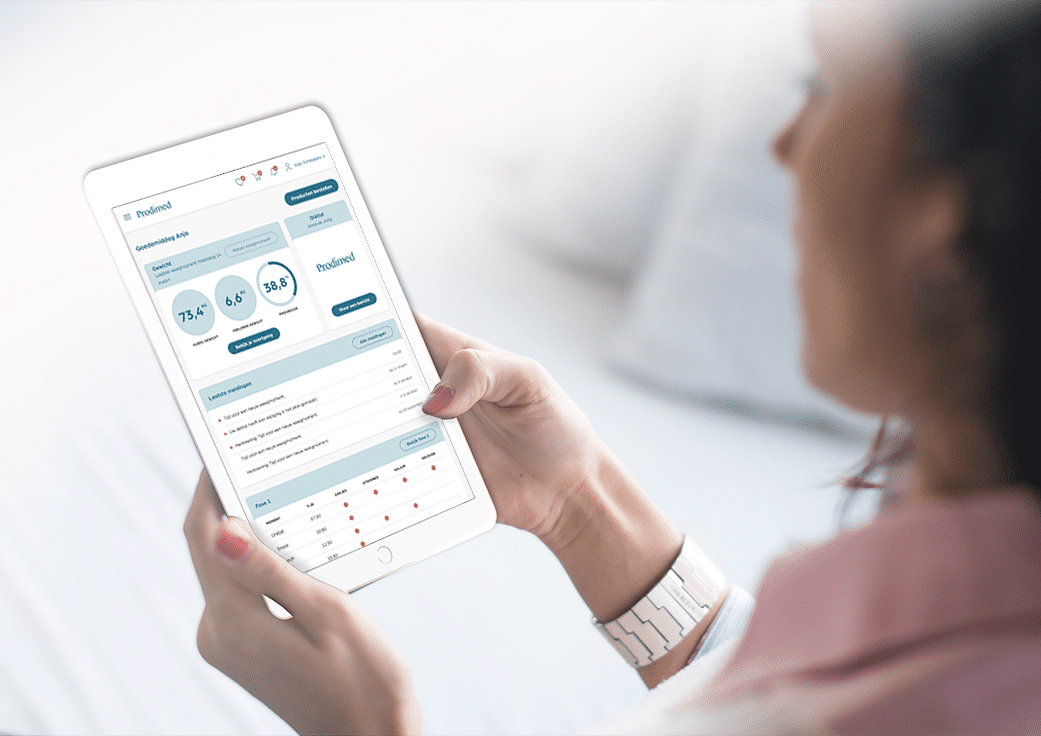 We would be pleased to help you